TS 109 Machined Mechanical Seal (Replace AESSEAL M01 , CRANE 109)
Zipper closure 1/5 zip athletic pullovers for men. Stretchy, lightweight, fast-drying fabric for superior performance. REGULAR FIT - US standard sizes. An athletic fit that sits close to the body for a wide range of motion, designed for optimal performance and all day comfort. FEATURES - Quarter zip closure;Thumbholes on long sleeves to keep them in place during workout
Our mechanical seal model 109 can replace AESSEAL M01 and john CRANE 109,which is widely used for industrial pumps. The normal material combination include resin carbon/ceramic/PTFE/ss304,resin carbon/tc/PTFE/ss304,sic/sic/PTFE/ss304 ,tc/tc/PTFE/ss304 and so on. we also can make changes as customers'requirement or totally design a new type of mechanical seal to meet clients'needs.

TS 109

Operating Limits:
Pressure: ≤1.7MPa
Speed: ≤25m/s
Temperature: - 30℃~+200℃
Stationary Seats:
1.TS 109 equip with "A" type stationary seats.
2.P and PP type stationary seats are available
Rotary Ring (Carbon/SiC/TC)
Stationary Ring (99%Ceramic/SiC/TC)
Secondary Seal(PTFE)
Spring & Other Parts (SUS304/SUS316)
Structural Features:
1.Use PTFE, resist corrosion, applies to chemical industry.
2.Applies to all kinds of rotating equipments, such as centrifugal pump ,mixer and agitatory crusher.
3.Mechanical drive,reduce attrition from shaft and sleeve, seal in two-way running .
4.Multi-spring and unbalanced type; meet API610 standards.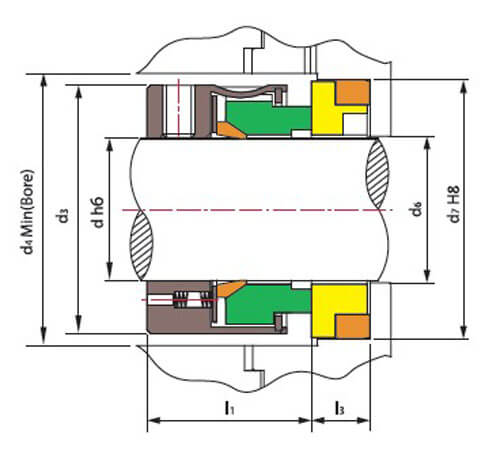 Seal size
d(inches)

d3

d4

d6

d7

l1

l3

0.500

26.7

29

13.4

25.40

20.6

7.95

0.625

30.7

34

16.6

31.75

19.0

10.3

0.750

34.0

37

19.7

34.93

22.2

10.3

0.875

37.2

40

22.9

38.10

23.8

10.3

1.000

40.3

43

26.1

41.28

25.4

11.1

1.125

43.5

46

29.4

44.45

27.0

11.1

1.250

48.3

51

32.4

47.63

27.0

11.1

1.375

51.5

54

35.6

50.80

28.6

11.1

1.500

54.6

58

38.8

53.98

28.6

11.1

1.625

61.0

64

42.4

60.33

35.0

12.7

1.750

64.2

67

45.5

63.50

35.0

12.7

1.875

67.3

70

48.7

66.68

35.0

12.7

2.000

70.5

73

51.9

69.85

35.0

12.7

2.125

76.9

80

55.0

76.20

43.0

14.3

2.250

80.0

83

58.2

79.38

43.0

14.3

2.375

83.2

86

61.4

82.55

43.0

14.3

2.500

86.4

89

64.6

85.73

43.0

14.6

2.625

89.6

92

67.7

85.73

43.0

15.9

2.750

92.7

96

70.9

88.90

43.0

15.9

2.875

95.9

99

74.1

85.25

43.0

15.9

3.000

97.5

100

77.3

98.43

43.0

15.9

3.125

100.7

104

80.5

101.60

43.0

19.8

3.250

105.4

108

83.6

104.78

43.0

19.8

3.375

108.6

111

86.8

107.95

43.0

19.8

3.500

111.8

115

90.0

111.13

43.0

19.8

3.625

115.0

118

93.1

114.30

43.0

19.8

3.750

118.1

121

96.3

117.48

43.0

19.8

3.875

121.3

124

99.5

120.65

43.0

19.8

4.000

124.5

127

102.7

123.83

43.0

19.8

4.125

127.7

131

106.3

130.18

43.0

19.8

4.250

130.8

134

109.5

133.35

43.0

19.8

4.375

134.0

137

112.7

136.53

43.0

19.8

4.500

137.2

140

115.9

139.70

43.0

19.8

4.625

149.9

153

119.0

142.88

51.0

19.8

4.750

153.1

156

122.2

146.05

51.0

19.8

4.875

156.2

159

125.4

149.23

51.0

19.8

5.000

159.4

165

128.6

152.40

51.0

19.8

5.125

162.6

168

131.7

155.58

51.0

19.8

5.250

165.8

172

134.9

158.75

51.0

19.8

5.375

168.9

175

138.1

161.93

51.0

19.8

5.500

172.1

178

141.3

165.10

51.0

19.8

5.625

175.3

181

\

\

51.0

\

5.750

178.5

184

\

\

51.0

\

5.875

181.6

187

\

\

51.0

\

6.000

184.8

191

\

\

51.0

\