TS 1500 Machined Mechanical Seal
Zipper closure 1/5 zip athletic pullovers for men. Stretchy, lightweight, fast-drying fabric for superior performance. REGULAR FIT - US standard sizes. An athletic fit that sits close to the body for a wide range of motion, designed for optimal performance and all day comfort. FEATURES - Quarter zip closure;Thumbholes on long sleeves to keep them in place during workout
Our mechanical seal model 1500 belong to machined mechanical seal and is widely used for industrial pumps. we have 4 different structure ,1527,1523,1524 and 1528 for customers' choice. The normal material combination include TC/Resin carbon/nbr/ss304, sic/resin carbon/nbr/ss304,sic/sic/nbr/ss304 and TC/TC/NBR/ss304 . we also can make changes as customers'requirement or totally design a new type of mechanical seal to meet clients'needs.

TS 1500
Operating Limits:
Pressure: 0~1MPa(TS1527,TS1528)
≤3MPa(TS1523,TS1524)
Speed: ≤15m/s
Temperature: -20℃~+180℃
Rotary Ring (SiC/TC/Carbon)
Stationary Ring (Carbon/SiC/TC)
Secondary Seal (EPDM/VITON/PTFE)
Spring & Other Parts (SUS304/SUS316)
Design Features
A.Rotary direction is immobile. The springs can be assorted into right-hand or left-hand. The Spring rotating direction is determined by the direction of the shaft rotation.
B.Except for the axial length, all other sizes conform to the ISO3069 and DIN24960 standards.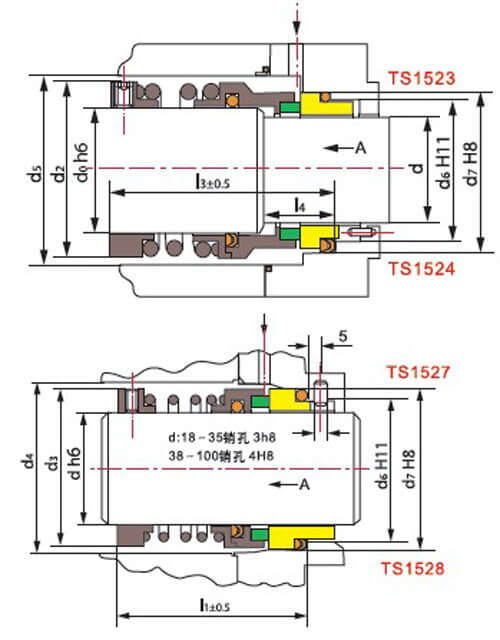 Seal size

d(mm)

d0

d3

d4

d6

d7

d2

d5/

l3

l1

l4

min

min

18

22

32

34

27

33

36

38

55

45

20

20

24

34

36

29

35

38

40

60

45

20

22

26

36

38

31

37

40

42

60

45

20

24

28

38

40

33

39

42

44

60

50

20

25

30

39

41

34

40

44

46

60

50

20

28

33

42

44

37

43

47

49

65

50

20

30

35

44

46

39

45

49

51

65

50

20

32

38

46

48

42

48

54

58

65

55

20

33

38

47

49

42

48

54

58

65

55

20

35

40

49

51

44

50

56

60

65

55

20

38

43

54

58

49

56

59

63

75

55

23

40

45

56

61

51

58

61

65

75

55

23

43

48

59

63

54

61

64

68

75

60

23

45

50

61

65

56

63

66

70

75

60

23

48

53

64

68

59

66

69

73

85

60

23
Seal size

d(mm)

d0

d3

d4

d6

d7

d2

d5

l3

l1

l4

min

min

50

55

66

70

62

70

71

75

85

60

25

53

58

69

73

65

73

78

83

85

70

25

55

60

71

75

67

75

80

85

85

70

25

58

63

78

83

70

78

83

88

85

70

25

60

65

80

85

72

80

85

90

95

70

25

63

68

83

88

75

83

88

93

95

70

25

65

70

85

90

77

85

90

95

95

80

25

68

73

88

93

81

90

93

98

95

80

28

70

75

90

95

83

92

99

104

95

80

28

75

80

99

104

88

97

104

109

105

80

28

80

85

104

109

95

105

109

114

105

90

28

85

90

109

114

100

110

114

119

105

90

28

90

95

114

119

105

115

119

124

105

90

28

95

100

119

124

110

120

124

129

105

90

28

100

105

124

129

115

125

129

134

105

90

28