TS58U Machined Mechanical Seal (Replace AESSEAL M03S ,BURGMANN BT-C5.KU,CRANE 58U,MTU DR3-S) TS59U (Replace AESSEAL M03 ,BURGMANN BT-C56.KU,CRANE 59U,MTU DR3-SC)
Zipper closure 1/5 zip athletic pullovers for men. Stretchy, lightweight, fast-drying fabric for superior performance. REGULAR FIT - US standard sizes. An athletic fit that sits close to the body for a wide range of motion, designed for optimal performance and all day comfort. FEATURES - Quarter zip closure;Thumbholes on long sleeves to keep them in place during workout
our Mechanical seal model 58Ucan Replace AESSEAL M03S ,BURGMANN BT-C5.KU,CRANE 58U , and MTU DR3-S,which is widely
used for industrial pumps. The normal material combination include resin carbon/ceramic/nbr/ss304,resin carbon/tc/nbr/ss304,sic/sic/nbr/
ss304 ,tc/tc/nbr/ss304 and so on. we also can make changes as customers'requirement or totally design a new type of mechanical seal to meet clients'needs.
Operating Limits:
Pressure: ≤1.7MPa
Speed: ≤25m/s
Temperature: -20℃~+200℃
Rotary Ring (Carbon/SiC/TC)
Stationary Ring (99%Ceramic/SiC/TC)
Secondary SeaI (VITON/PTFE/Encapsulated Ring)
Spring & Other Parts (SUS304/SUS316)
Design Features: Conform to ISO3069, DIN24960 and BS5257-1975 standards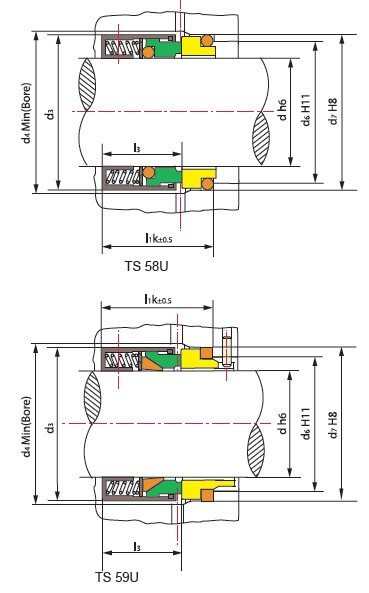 Seal size
d(mm)

d3

d4

l1k

l3

d6

d7

14

24

26

35.0

23.0

21

25

16

26

28

35.0

23.0

23

27

18

32

34

37.5

24.0

27

33

20

34

36

37.5

24.0

29

35

22

36

38

37.5

24.0

31

37

24

38

40

40.0

26.7

33

39

25

39

41

40.0

27.0

34

40

28

42

44

42.5

30.0

37

43

30

44

46

42.5

30.5

39

45

32

46

48

42.5

30.5

42

48

33

47

49

42.5

30.5

42

48
Seal size
d(mm)

d3

d4

l1k

I3

d6

d7

35

49

51

42.5

30.5

44

50

38

54

58

45.0

32.0

49

56

40

56

60

45.0

32.0

51

58

43

59

63

45.0

32.0

54

61

45

61

65

45.0

32.0

56

63

48

64

68

45.0

32.0

59

66

50

66

70

47.5

34.0

62

70

53

69

73

47.5

34.0

65

73

55

71

75

47.5

34.0

67

75

58

78

83

52.5

39.0

70

78

60

80

85

52.5

39.0

72

80
Seal size
d(mm)

d3

d4

l1k

I3

d6

d7

63

83

88

52.5

39.0

75

83

65

85

90

52.5

39.0

77

85

68

88

93

52.5

39.0

81

90

70

90

95

60.0

45.5

83

92

75

95

104

60.0

45.5

88

97

80

104

109

60.0

45.0

95

105

85

109

114

60.0

45.0

100

110

90

114

119

65.0

50.0

105

115

95

119

124

65.0

50.0

110

120

100

124

129

65.0

50.0

115

125