TS M3 Machined Mechanical Seal (Replace BURGMANN M3N/M37,MTU EUROPA)
Zipper closure 1/5 zip athletic pullovers for men. Stretchy, lightweight, fast-drying fabric for superior performance. REGULAR FIT - US standard sizes. An athletic fit that sits close to the body for a wide range of motion, designed for optimal performance and all day comfort. FEATURES - Quarter zip closure;Thumbholes on long sleeves to keep them in place during workout
Our Mechanical seal model M3 can Replace BURGMANN M3N/M37 and MTU EUROPA.
we usually have 4 types of stationary seat for customer's choice,BT,G4,G9 and G6 The
normal material combination include ss304/resin CA/SS304/NBR,SIC/resin carbon/ss304/
NBR,sic/sic/ss304/nbr,TC/resin carbon/ss304/nbr,tc/tc/ss304/nbr and so on. we also can
make changes as customers'requirement or totally design a new type of mechanical seal to meet clients'needs.
TS M3(TS551)
Operating Limits:
Pressure: ≤1MPa
Speed: ≤10m/s
Temperature: -20℃~+180℃
Rotary Ring (SUS304/SiC/Carbon/TC)
Stationary Ring (Carbon/SiC/TC)
O-Ring (NBR/EPDM/VITON/PTFE)
Retainer (SUS304/SUS316)
Spring (SUS304/SUS316)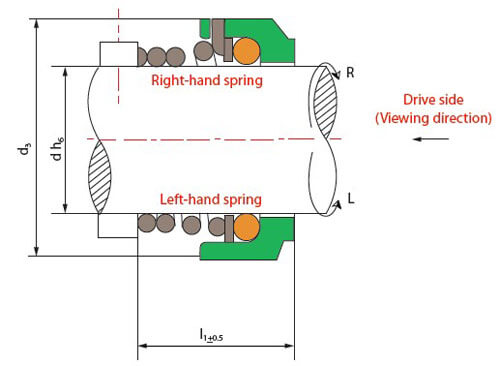 Seal size
d(mm)




d3




BT

G4

G9

G6

d7

l1

l3

d7

l1

l3

d7

d8

l1

l3

d7

l1

l3

8

18

17.1

15

5.5

19.2

11.9

7.0

\

\

\

\

\

\

\

10

19

18.1

15

5.5

19.2

15.5

6.6

21

3

15.5

10

21

15.5

6.6

11

20

20.6

18

5.5

\

\

\

\

\

\

\

\

\

\

12

21

20.6

18

55.0

21.6

16.0

5.6

23

3

16.0

10

23

16.0

6.6

13

22

23.0

22

6.0

\

\

\

\

\

\

\

\

\

\

14

23

23.1

22

6.0

24.6

16.5

5.6

25

3

16.5

10

25

16.5

6.6

15

24

26.9

22

7.0

24.6

18.0

6.6

\

\

\

\

\

\

\

16

26

26.9

23

7.0

28.0

18.0

7.5

27

3

18.0

10

27

18.0

6.6

17

26

26.9

23

7.0

\

\

\

\

\

\

\

\

\

\

18

29

30.9

24

8.0

30.0

19.5

8.0

33

3

19.5

11.5

33

19.5

7.5

19

31

30.9

25

8.0

35.0

22.0

7.5

\

\

\

\

\

\

\

20

31

30.9

25

8.0

35.0

22.0

7.5

35

3

22.0

11.5

35

22.0

7.5

22

33

35.4

25

8.0

35.0

21.5

7.5

37

3

21.5

11.5

37

21.5

7.5

23

36

35.4

27

8.0

\

\

\

\

\

\

\

\

\

\

24

35

35.4

27

8.0

38.0

23.5

7.5

39

3

23.5

11.5

39

23.5

7.5

25

36

38.2

27

8.5

38.0

26.5

7.5

40

3

26.5

11.5

40

26.5

7.5

26

37

38.2

27

8.5

40.0

26.5

8.0

\

\

\

\

\

\

\

28

40

43.3

29

9.0

42.0

26.5

9.0

43

3

26.5

11.5

43

26.5

7.5

30

43

43.3

30

9.0

45.0

26.5

10.5

45

3

26.5

11.5

45

26.5

7.5

32

46

43.3

30

9.0

48.0

28.5

10.5

48

3

28.5

11.5

48

28.5

7.5

33

47

53.5

39

11.5

\

\

\

\

\

28.5

\

\

28.5

\

34

48

53.5

39

11.5

\

\

\

\

\

\

\

\

\

\

35

49

53.5

39

11.5

52.0

28.5

11.0

50

3

28.5

11.5

50

28.5

7.5

36

50

53.5

39

11.5

\

\

\

\

\

\

\

\

\

\

38

53

60.5

39

11.5

55.0

33.5

10.3

56

3

33.5

14.0

56

33.5

9.0

40

56

60.5

39

11.5

58.0

36.0

10.8

58

3

36.0

14.0

58

36.0

9.0

42

59

60.5

39

11.5

62.0

38.5

12.0

\

\

\

\

\

\

\

43

59

60.5

39

11.5

62.0

38.5

12.0

61

3

38.5

14.0

61

38.5

9.0

44

60

65.5

41

11.5

\

\

\

\

\

\

\

\

\

\

45

61

65.5

41

11.5

64.0

39.5

11.6

63

4

39.5

14.0

63

39.5

9.0

48

64

65.5

41

11.5

68.4

46.0

11.6

66

4

46.0

14.0

66

46.0

9.0

50

66

72.5

45

11.5

69.3

45.0

11.6

70

4

45.0

15.0

70

45.0

9.5

53

69

\

\

\

\

\

\

73

4

47.0

15.0

70

47.0

9.5

55

71

72.5

47

11.5

75.4

49.0

13.3

75

4

49.0

15.0

75

49.0

11.0

58

76

\

\

\

78.4

55.0

13.3

78

4

55.0

15.0

78

55.0

11.0

60

78

79.3

49

11.5

80.4

55.0

13.3

80

4

55.0

15.0

80

55.0

11.0

63

83

\

\

\

\

\

\

83

4

55.0

15.0

83

55.0

11.0

65

84

84.5

51

11.5

85.4

55.0

13.0

85

4

55.0

15.0

85

55.0

11.0

68

88

\

\

\

91.5

55.0

13.7

90

4

55.0

18.0

90

55.0

11.3

70

90

89.5

51

11.5

92.0

57.0

13.0

92

4

57.0

18.0

92

57.0

11.3

75

98

3.9

57

11.5

99.0

62.0

14.0

97

4

62.0

18.0

97

62.0

11.3

80

100

99.5

59

11.5

104.0

61.8

15.0

105

4

61.8

18.2

105

61.8

12.0