TS MG9 Machined Mechanical Seal (Replace BURGMANN MG9)
Zipper closure 1/5 zip athletic pullovers for men. Stretchy, lightweight, fast-drying fabric for superior performance. REGULAR FIT - US standard sizes. An athletic fit that sits close to the body for a wide range of motion, designed for optimal performance and all day comfort. FEATURES - Quarter zip closure;Thumbholes on long sleeves to keep them in place during workout
Our Mechanical seal model MG9 can Replace BURGMANN MG9,which is widely used for water pumps and submerged pump.
we usually seat type G60 to match it. The normal material combination include carbon/ceramic/nbr/ss304,resin carbon/ceramic/
nbr/ss304/,sic/sic/nbr/ss304,tc/tc/nbr/ss316 and so on. we also can make changes as customers'requirement or totally design
a new type of mechanical seal to meet clients'needs.
Operating Limits:
Pressure: ≤1.0MPa
Speed: ≤10m/s
Temperature: -30℃~+180℃
Rotary Ring (Carbon/SiC/TC)
Stationary Ring (Ceramic/SiC/TC)
Secondary Seal (NBR/VITON/EPDM)
Spring & Other Parts (SUS304/SUS316)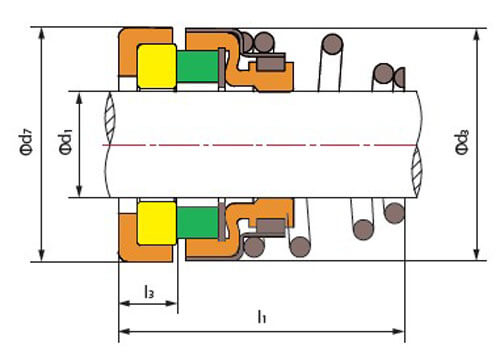 | | | | | | |
| --- | --- | --- | --- | --- | --- |
| Model | d1 | d3 | d7 | l1 | l3 |
| TSMG912-20 | 20 | 32 | 35 | 37.5 | 7.5 |
| TSMG912-22 | 22 | 33.5 | 37 | 37.5 | 7.5 |
| TSMG912-24 | 24 | 37 | 39 | 40 | 7.5 |
| TSMG912-25 | 25 | 38 | 40 | 40 | 7.5 |
| TSMG912-28 | 28 | 41 | 43 | 42.5 | 7.5 |
| TSMG912-30 | 30 | 43 | 45 | 42.5 | 7.5 |
| TSMG912-32 | 32 | 45 | 48 | 42.5 | 7.5 |
| TSMG912-33 | 33 | 46 | 48 | 42.5 | 7.5 |
| TSMG912-35 | 35 | 48 | 50 | 42.5 | 7.5 |
| TSMG912-38 | 38 | 52.5 | 56 | 45 | 9 |
| TSMG912-40 | 40 | 55.5 | 58 | 45 | 9 |
| TSMG912-45 | 45 | 60.5 | 63 | 45 | 9 |
| TSMG912-48 | 48 | 64 | 66 | 45 | 9 |
| TSMG912-50 | 50 | 66 | 70 | 47.5 | 9.5 |
| TSMG912-53 | 53 | 69 | 73 | 47.5 | 11 |
| TSMG912-55 | 55 | 71 | 75 | 47.5 | 11 |
| TSMG901-1 1/8" | 28.575 | 41 | 44.45 | 52.37 | 11.1 |
| TSMG901-1 3/8" | 34.925 | 48 | 50.8 | 53.95 | 11.1 |
| TSMG901-1 1/2" | 38.1 | 52.5 | 54 | 53.95 | 11.1 |
| TSMG901-1 3/4" | 44.45 | 60.5 | 63.5 | 63.5 | 12.7 |